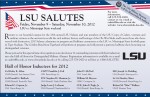 Return to our beautiful campus for the 18th annual LSU Salutes and join members of the LSU Corps of Cadets, veterans and military retirees as the university recalls the rich military history and heritage of the Ole War Skule and honors those who have served with distinction.
Please join us for this special time of recognition as we also honor 12 outstanding veterans with their induction into the Hall of Honor for Distinguished Military Alumni. Registration information is available via e-mail at cadets@lsu.edu, at www.olewarskule.lsu.edu or by calling 225-578-0420 or toll free at 1-866-SALUTES.
Hall of Honor Inductees for 2012
Col Kirby E. Allen 
USAF (Retired)  San Antonio, Texas
Col Donald G. Bulloch
USAF (Retired)  Knoxville, Tenn.
Edward C. Capron, Jr.
USA   Baton Rouge, La.
CAPT Franklin J. Foil
USN  Baton Rouge, La.
LTC Stephen H. Harmon, Jr.
USA (Retired)  North Chatham, Mass. 
Judge Leon J. LeSueur
USA (Deceased)  Napoleonville, La.
John D. McNeil
USA  Laurel, Miss.
William M. Meyers
USMC  Covington, La.
COL John F. Pugh, Jr.
USA (Retired)  Baton Rouge, La.
MG Joseph A. Redding
USA (Retired)  Shreveport, La.
Lt Col Stanley Shaw
USAF (Deceased)  Baton Rouge, La.
Robert M. "Mac" Wallace
USAF  Houston, Texas