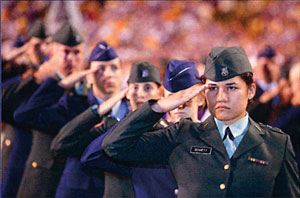 LSU Salutes is an opportunity for the Ole War Skule to recognize and honor those who served with distinction in the Armed Forces of the United States of America, along with special guests, including all veterans and former and current cadets. By resolution of the LSU Board of Supervisors in March of 1998, LSU Salutes was established as an official University observance. It occurs each November on the Saturday of a home football game which falls nearest to Veterans Day. The event also recognizes and honors POWs, MIAs, and Congressional Medal of Honor recipients.
LSU Salutes continues to be the catalyst for renewal of institutional and alumni commitment to the Ole War Skule. Through this effort, citizens are reminded of the significant sacrifices made by so many former and current cadets, alumni, and others who make possible our freedom today. They are also given the opportunity to express their appreciation and support for those who continue to serve and those preparing to serve in the Armed Forces of the United States of America.
LSU Salutes Registration Process
Registration information for LSU Salutes is mailed in late summer or early fall to all current members of Cadets of the Ole War Skule and other local and national military organizations. However, participation is open to any and all veterans, especially those who are alumni of LSU. Because of limited availability, participation in the purchase of football tickets has been limited to current members of Cadets of the Ole War Skule who are registered for LSU Salutes.
LSU Board of Supervisors Resolution
A resolution recognizing all Veterans and Ole War Skule Cadets who attended LSU was presented setting forth an annual event to be observed each year on the Saturday closest to Veteran's Day, and a home football game. Board member Laura Leach moved, and the Board unanimously approved the following recommendation honoring our Veterans and Ole War Skule Cadets.
WHEREAS, Louisiana State University and Agriculture and Mechanical College has since its inception has been a bastion of patriotism beginning in 1860 when it was opened as Louisiana State Seminary of Learning and Military Academy and located in Pineville, Louisiana and the first Superintendent of the Seminary was Colonel William Tecumseh Sherman; and
WHEREAS, in every armed conflict in which the United States of America has participated since LSU's founding, including the Spanish American War, the World Wars, Korea, Vietnam, Panama, Haiti, Somalia and the Persian Gulf actions of today, LSU has given its sons and daughters unflinchingly, including Ruffin G. Pleasant, who commanded a Battalion in Cuba in 1898, to General John Archer Lejeune, who commanded the 1st Marine Combat Division in World War I, to the 15 General officers of World War II including General "Lightning" Joe Lawton Collins, (President Harry S. Truman's Chief of Staff, General Troy H. Middleton, beloved former President of LSU, and Genera Claire Chenault; and
WHEREAS, the list of our heroes is endless, as is the blood they so nobly gave; and
WHEREAS, in World War II, only Texas A&M and the Military Academies of Annapolis and West Point were equal to the Ole War Skule in providing officers to the Armed Forces.
NOW, THEREFORE, BE IT officially proclaimed by the Board of Supervisors of Louisiana State University and Agricultural and Mechanical College that recognition of our Veterans and Ole War Skule Cadets be officially and publicly recognized each year on the Saturday closest to November 11th on which a home football game will be played, and henceforth known as LSU Salutes.
BE IT FURTHER RESOLVED that all Veterans who have attended LSU and members of the current LSU Corp of Cadets will gather at the Memorial Oak Grove (later moved to the new LSU War Memorial) for a special ceremony, and that recognition of our heroes at the football game shall include but not be limited to:
A military display or a fly over, if, appropriate;

Presentation of the Ole War Skule members, prior to football game between band pre-game performance and playing of the National Anthem;

Guest seating in stadium and box area for members of Cadets of the Ole War Skule.

Patriotic performance of band and chorus at half-time, possibly including a joint performance of LSU's band, and visiting band;

Recognition of all veterans in the stadium, asking them to stand;

During presentation of the LSU Cadets of the Ole War Skule on the playing field, a short military history shall be read over the stadium speaker;
THUS, will our brave and noble past be remembered , and we must never forget the sacrifice of so many in the cause of freedom and love of Country.