The Shield and Sword Newsletter - Online • August 2019
President's Day Parade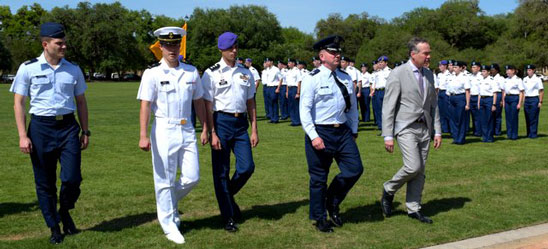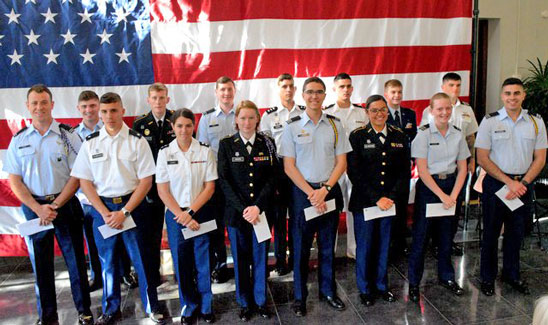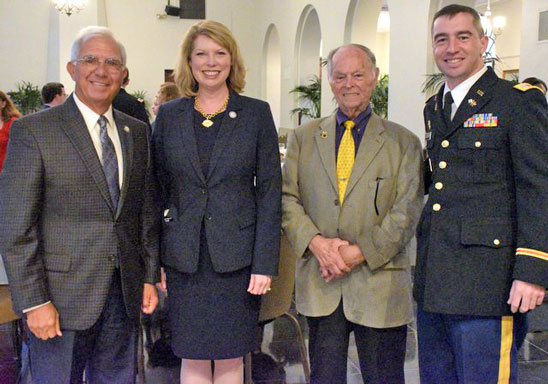 LSU paid tribute to its military heritage at the President's Day Parade and Change of Command Ceremony on April 11 at the LSU War Memorial on the Parade Ground. Following the parade, America's future military officers in the Corps of Cadets were honored for their accomplishments at the eighth annual Joint ROTC Awards Ceremony at the LSU Student Union. The LSU Corps of Cadets includes the Army and Air Force ROTC units at LSU and the Naval ROTC unit at Southern University. Photos by Ray Dry
---
Memorial Day Observance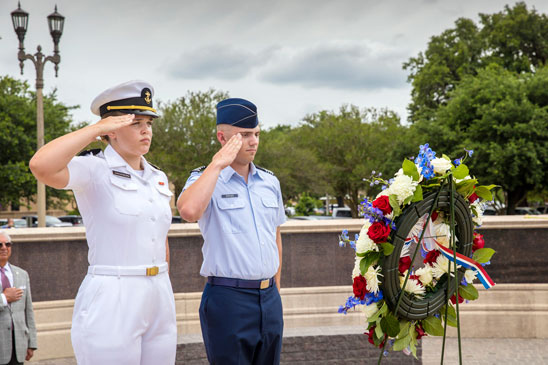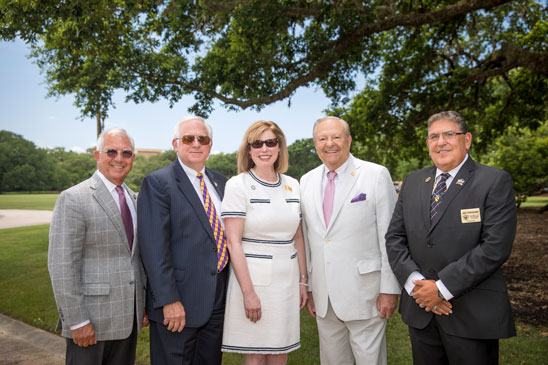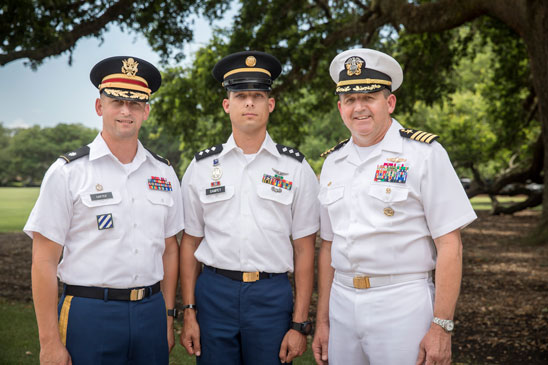 LSU honored its former students, faculty, and staff, as well as all veterans who have given their lives in service to their country on May 30, traditional Memorial Day. The noon ceremony at the LSU War Memorial included a wreath-laying ceremony, Taps, and a moment of silence. Col. Joey Strickland, Secretary of the Louisiana Department of Veterans Affairs, gave the keynote speech at the luncheon following the event. Photos by Eddy Perez/LSU Strategic Communications
---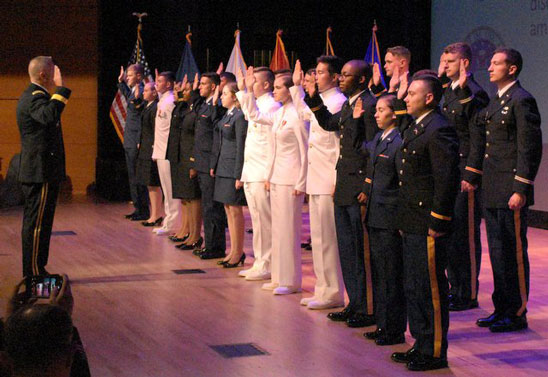 22 Cadets Commissioned at Spring Ceremony
Twenty-two graduates were recognized during the LSU Spring ROTC Commissioning Ceremony. Brigadier General Vincent B. Barker, the 377th Theater Sustainment Command Deputy Commanding General, was the guest speaker for the ceremony and gave the commissioning oath. Eight LSU graduates from the Army ROTC program, five graduates from the Navy ROTC program, including three Southern University graduates, and nine graduates from the Air Force ROTC program were commissioned. For more information, visit the website. Photo by Ray Dry
---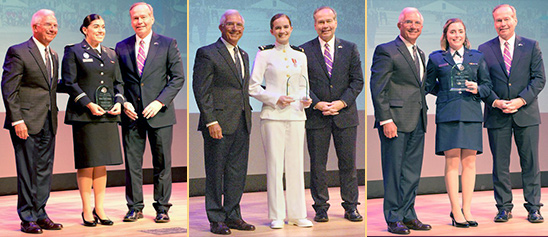 Corps Achievement Awards
The Corps Achievement Award is presented each year by Cadets of the Ole War Skule to honor top graduates and newly commissioned officers in each branch of the service. Recognized this year were 2 LT Maria Chavez, Army; ENS Renée Hill, Navy; and 2 Lt Collean Hebert. Photos by Ray Dry
---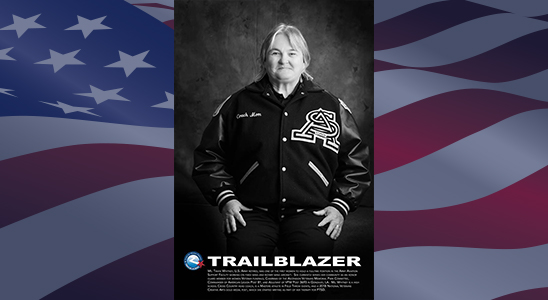 Whitney Earns Trailblazer Award
Cadets of the Ole War Skule member Tanya Whitney, of Sorrento, La., received a Trailblazer award from the U.S. Department of Veterans Affairs in Washington, D.C., in March. She was one of 15 women nationwide honored for their service in the military and in their communities after leaving the military.
A veteran of the U.S. Army and Louisiana National Guard, Whitney volunteers with several organizations supporting veterans, active military personnel, and their families. She has served as honor guard member at funerals for women veterans and gives educational presentations to schools, civic organizations, and other public groups on the service of women in the military and their impact on society.
Whitney is a member of Ole War Skule Senior Symposium interview team.
---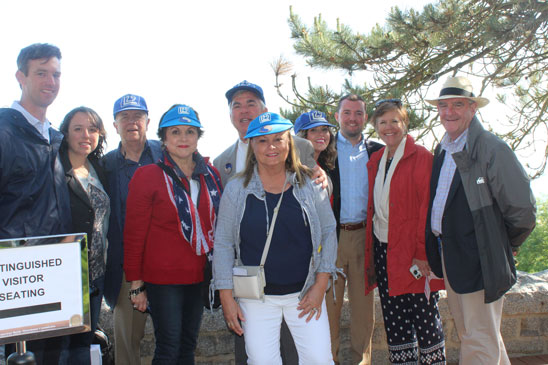 D-Day Remembered
The family of the late Lucien P. Laborde, Sr., attended the D-Day 75th Anniversary ceremonies at the American Cemetery in Normandy in his honor. "My dad landed as a captain in the 115th Regiment, 29th Infantry Division, on Omaha Beach on the morning of D-Day, June 6, 1944," writes Lucien "Luke" Laborde, Jr. The logo on the blue caps was his cattle brand – L29, and the photo was taken overlooking the sector where dad landed and came up the bluff." Lucien Laborde was president of the LSU Alumni Federation (now Association) in 1964-65 and with his brother John P. Laborde co-chaired the LSU War Memorial Commission.
---
Memorabilia Donation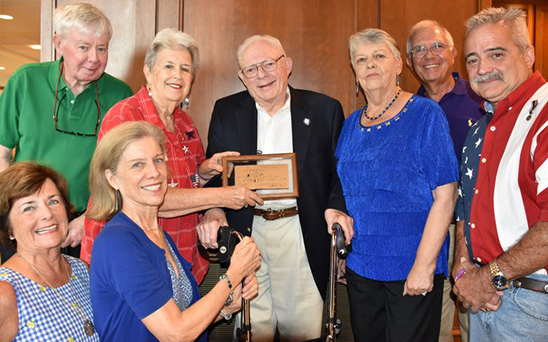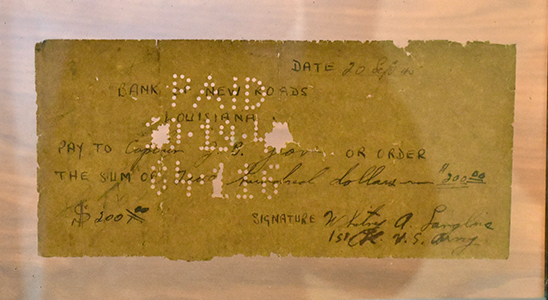 Dawson's father, Whitney Antoine Langlois, Sr., wrote a check for $200 on the back of a Campbell Soup label while a Japanese prisoner of war in World War II to purchase four very small bowls of rice to share with his fellow prisoners. After several months moving through mail channels, the check finally reached the Bank of New Roads, whereupon the bank president, Lamartine Bouanchaud, called the family to notify them he had the check. He also told them that Langlois did not have any money in his account. The family told him they would cover the amount of the check, and, having received the news about the check, they knew that he was still alive.
Also present at the donation were Ellen Brown, curator, and John Milazzo, president of Cadets of the Ole War Skule. Photos by Ray Dry
---
Last Doolittle Raider Dies
Retired Lt. Col. Dick Cole, the last surviving member of the Doolittle Raiders, who rallied the nation's spirit during the darkest days of World War II, passed away in April. Visit the website.
---
For Your Viewing Pleasure
Marc Goldstein, president of Creative Video Productions in Baton Rouge, shares two short documentaries with Shield & Sword readers.
Visit "BATTERY" at https://vimeo.com/278232275 and "Heroes of Harding Field" at https://vimeo.com/230517821. Thanks, Marc!
---
Cadets Celestial
Neil Paul Brechtel, Feb. 9, 2019, New Castle, Del.
Colonel George Guidry, Jr, a 2001 Hall of Honor Inductee, June 6, 2019, Plaquemine, La.
Colonel Walter Raymond "Walt" Hays, Feb. 26, 2019, St. Amant, La.
Denver Loupe, Charter Member of Cadets of the Ole War Skule and 2007 Military Hall of Honor Inductee, July 8, 2019, Baton Rouge, La.
Merritt Eleing McDonald, Sr., April 2019, Baton Rouge, La.
Colonel Michael B. Stupka, May 26, 2019, Bogalusa, La.
---
Calendar of Events - Fall 2019
| | | |
| --- | --- | --- |
| Orientation for The Corps | Friday, Aug. 23 | Coastal Studies Bldg. |
| Welcome Back | Thursday, Sept. 5 | Military Science Bldg. |
| LSU Salutes Registration | Thursday Nov. 21-Friday Nov. 22 | Faculty Club |
| Commandant's Luncheon | Friday Nov. 22 | LSU Union |
| Annual Meeting | Friday Nov. 22 | LSU Union |
| President's Reception/Dinner | Friday Nov. 22 | LSU Faculty Club |
| LSU Salutes Annual Assembly | Saturday, Nov. 23 | LSU War Memorial |
| LSU Salutes LSU vs. Arkansas | Saturday, Nov. 23 | Tiger Stadium |
| Commissioning | Thursday, Dec. 19 | TBD |
---
| Connect with Us: | |
| --- | --- |