The Shield and Sword Newsletter - Online • December 2017

Greetings to you on behalf of the leadership. It has been a pleasure to work with all of you this past year, and we are anxious to move into 2018 — anticipating all of the exciting events and activities ahead for the new year. As we enter this very special time of the year, I am happy to extend Best Wishes to all of you for Happy Hanukkah and a Merry Christmas. May you and your family be richly blessed in the new year.
For the Long Purple Line…
John W. Milazzo, Jr.
President
---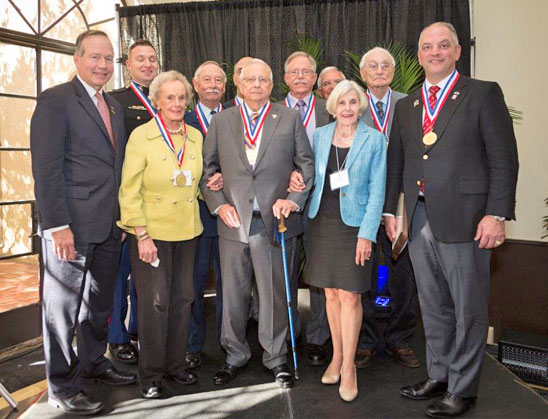 8 Inducted into Military Hall of Honor
Eight distinguished LSU alumni were inducted into the LSU Military Hall of Honor during LSU Salutes 2017, sponsored the University and Cadets of the Ole War Skule.
Inductees included Gov. John Bel Edwards; retired U.S. Air Force Brig Gen Bob L. Efferson of Austin, Texas; the late Willis W. Gayle of Lake Charles, La.; the late U.S. Army COL Richard J. Keller of Hahnville, La.; the late U.S. Marine Corps CPL Germaine C. Laville of Plaquemine, La.; O. Fred Loy of Baton Rouge; U.S. Marine Corps Maj Ian H. "Sniffer" Rowe; and Charles Ray Smith of New Roads, La.
The induction ceremony took place during the Commandant's Luncheon at the Club at LSU Union Square. MG Hunt Downer, former speaker of the Louisiana House of Representatives and assistant adjutant general of the Louisiana National Guard, served as keynote speaker. The inductees were also honored at the President's Reception and LSU Salutes dinner with Richard A. Lipsey, past president of Cadets of the Ole War Skule, as guest speaker. They were recognized during pre-game activities at the LSU vs. Arkansas football game at Tiger Stadium, and the Tiger Marching Band presented a "Patriotic Salute" during the half-time show.
Participating in LSU Salutes events were members of the LSU Corps of Cadets, which includes LSU Army and Air Force ROTC students and Southern University Navy ROTC, which consists of LSU and Southern students.
---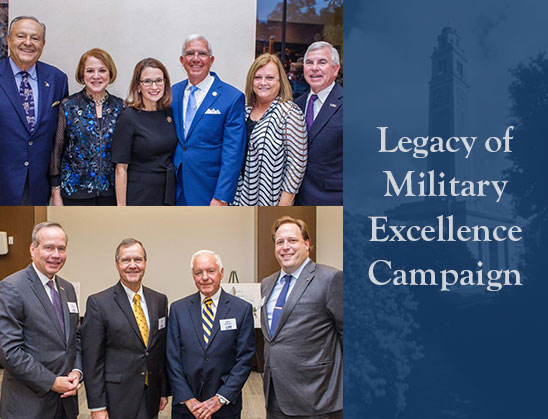 Military Museum Preview
Richard Lipsey, past president of Cadets of the Ole War Skule, and Luke Laborde hosted a reception at the LSU Foundation in November for donors and potential supporters of the Legacy of Military Excellence Campaign. Campaign funds will be used for the renovation/restoration of Memorial Tower to ultimately house the LSU Military Museum.
---
LSU Cadet Named Top in Nation

Cadet Michael Orgeron, a senior in construction management, was named the No. 1 Army Cadet in the country by Cadet Command in its annual national order-of-merit list. ROTC seniors are rank-ordered, with the top 20 percent earning the designation of Distinguished Military Graduate. This year there were 1,102 DMGs out of the 5,536 seniors on the order-of-merit list.

The list is based on several criteria, including grade point average, strong performance on the Army Physical Fitness Test, college athletic participation, and performance during college ROTC training and Advanced Camp at Fort Knox, Ky.
---
POW/MIA Chair of Honor Unveiled
A new seat in Tiger Stadium – the Chair of Honor – was unveiled at the LSU-Arkansas game in November.
Located on the ground level in the north end zone, the seat is a tribute to prisoners of war and soldiers who are missing in action. The chair will be a permanent fixture in the stadium and will remain empty and guarded by ROTC cadets during home football games.
"We are extremely honored to be part of this program," LSU Vice Chancellor and Director of Athletics Joe Alleva said. "LSU has such a rich military tradition, and to be able to pay tribute to those who served our country is something we are proud of."
Similar seats are planned for the Maravich Assembly Center, Alex Box Stadium, and Tiger Park.
---
Cadets Celestial
William C. McCorkle, 1949 BACH SCI, a 2001 Hall of Honor inductee, Aug. 8, 2017, Houston, Texas
Lenton Sartain, Jr., 1948 JD, a 2000 Hall of Honor inductee, Nov. 17, 2017, Baton Rouge, La.
William D. "Bill" Shaffer, Jr., a 2015 Hall of Honor inductee, Nov. 17, 2017, Hendersonville, N.C.
John Morgan Bass III, 1949 BACH ENGR, Nov. 22, 2017 Ridgeland, Miss.
---
| Connect with Us: | |
| --- | --- |