The Shield and Sword Newsletter - Online • Fall 2019
LSU Salutes 2019 – 8 Named to Military Hall of Honor
Eight LSU graduates will be inducted into the Hall of Honor for LSU Distinguished Military Alumni during LSU Salutes 2019.
The honorees are Eugene A. Booth, CPT, U.S. Army; Peter Dennis Burland, MSG, U.S. Army; Arthur Joseph delaHoussaye, III, Capt, U.S. Marine Corps; Leonard J. Drude, CAPT, U.S. Navy (Ret.); John B. Dunlap, III, Brigadier General, Louisiana National Guard; John Elphick, CPT, U.S. Army; John H. Mitchell, 2LT, U.S. Army; and Marvin J. "Buddy" Roberts, CPT, U.S. Army.
The induction ceremony will take place at 9 a.m. on Saturday, Nov. 23, at the LSU War Memorial on the Parade Ground.
For a complete schedule of events, visit LINK.
---
| 33 Years Later – PV2 Steven Nosworthy, left, a second-generation legacy graduate of Airborne Class 33-19 at Fort Benning, Ga., joins his dad, LTC Dudley Nosworthy II (Ret.), Airborne Class 39-86, at ceremonies on Sept. 14. LTC Nosworthy, of Rockwall, Texas, graduated from LSU and was commissioned through LSU Army ROTC in 1987. | |
| --- | --- |
---

Future Planning – Air Force, Army, and Navy ROTC cadre, staff, and cadets joined Cadets of the Ole War Skule board members at a day-long retreat in the Military Science Building in September to map out strategies for moving the organization and ROTC into the next decade and beyond. Cadets of the Ole War Skule President John Milazzo, LSU Board of Supervisors Chair Mary Werner, and LSU Military Commission Co-Chair Richard Lipsey gave introductory remarks during the opening session. Professional consultant Dr. Brookie Allphin facilitated the retreat, which included small-group discussions and a wrap-up presented by cadets. When completed, results of the strategic plan will be shared with the LSU Board of Supervisors and University administration for implementation.
---

Louisiana Veterans Visit Nation's Capital
Fourteen Louisiana World War II, Korean War, and Vietnam War veterans took the trip of a lifetime to visit the war memorials in Washington, D.C., in October. CPT Dillon Mathies, founder and current chairman of Honor Flight Louisiana, helped organize and plan the trip.
The group participated in a meet-and-greet session with Lt. Gov. Billy Nungesser and Congressman Garret Graves on Oct. 4 and the following day flew to the nation's capital to visit their respective memorials before returning to a "welcome home many never received."
Honor Flight Louisiana invites World War II, Korean War, and Vietnam War veterans to participate – free of charge. If you or someone you know qualifies, find more information at www.honorflightlouisiana.org.
---
Mary Werner Named Chair of LSU Board of Supervisors

Congratulations to Mary Werner, newly installed chair of the LSU Board of supervisors.

After completing his year-long term as chair of the board, James Williams officially handed over the gavel of the University's governing body to Mary L. Werner at the board's September meeting. The transition was a historic one. Williams was the first African-American alumnus to chair the board, and Werner's mother, Laura Leach (co-chair of the LSU Military Commission), served on the board for eighteen years, including as chair from 1996 to 1997, making Werner the first daughter of a former chair to hold the position.
---
Fall Orientation 2019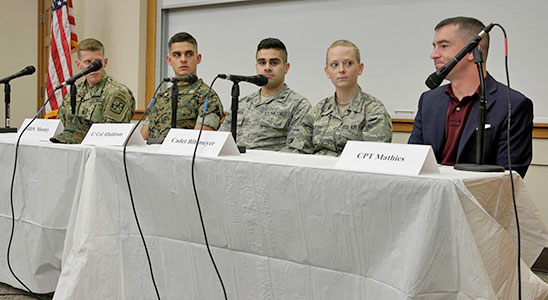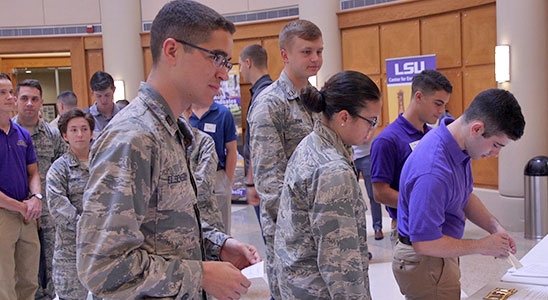 Fall Orientation provides an opportunity for members of Cadets of the Ole War Skule to meet and visit with the newest members of The Corps as well as renew acquaintances with returning cadets and midshipmen. It also provides a time for members and alumni to share with those in attendance part of the rich military history and heritage which has become synonymous with LSU and the Long Purple Line. Photos by Marc Goldstein
---
Welcome Back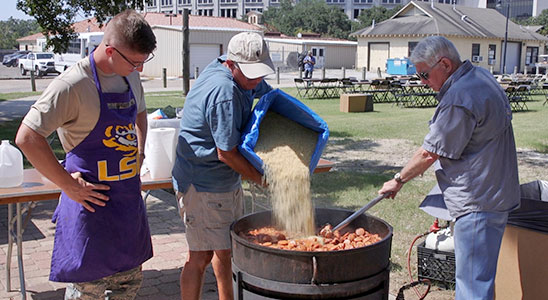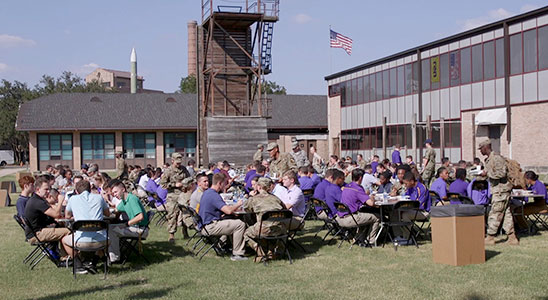 Cadets of the Ole War Skule members prepared and served jambalaya to returning members of the LSU Corps of Cadets and cadre to welcome them back to campus in September. The annual event provides a venue for seasoned veterans and alumni to visit with the young men and women who will carry LSU's military legacy into the future.
---
In the Spotlight
Each summer, between their junior and senior years, cadets and midshipmen usually have the opportunity to experience some type of training exercise which places them in a "real-service" active-duty-type situation, providing the opportunity for them to see firsthand what it is like in various circumstances. The following three articles reflect recent summer training exercises for three of these future leaders. We hope you enjoy learning more about their busy summers.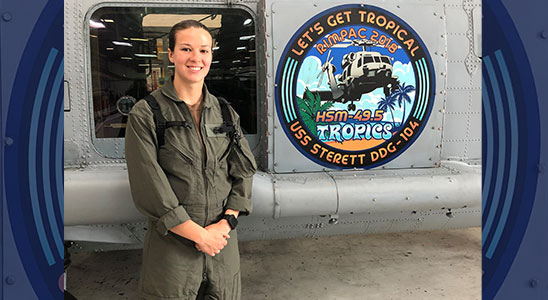 MIDN 3/C Meghan Croghan, a civil engineering sophomore from Burke, Va., poses right before taking off in a T-6A II Texan during CORTRAMID (Career Orientation Training for Midshipmen). Aside from training received throughout the school year, midshipmen have the opportunity to participate in various summer training programs designed to expose them to operational life in the Navy and Marine Corps. One of these training opportunities is CORTRAMID during which midshipmen who have completed their first year in the program spend four weeks learning about Department of the Navy communities.
As described by MIDN Croghan, "CORTRAMID opened my eyes to several different opportunities I can pursue within the aviation community," said MIDN Corghan. "Currently, my main interest is in flying SH-60 Seahawks because I would like to participate in either antisubmarine warfare or humanitarian assistance type missions."
Midshipman learn about the Surface Navy, Sub-surface Navy, the Marine Corps, and the many different aviation platforms in both branches. The knowledge gained is first-hand, as they spend time on ships and submarines, shooting and patrolling with the Marines and logging flight time in the Navy and Marine Corps training jets. The experiences of CORTRAMID allow midshipmen to make informed decisions regarding service assignment later in their NROTC tenure.
---

Ten Air Force ROTC cadets took part in summer field training at Maxwell AFB in Montgomery, Ala. During the spring semester, they prepared for the two-week-long challenge that included daily participation in stressful situations in which they were expected to perform with a standard of excellence.
"Field training introduced me to several different concepts that are regularly used by military personnel. Some of these concepts include M.O.U.T Tactics, Principles of Patrolling, IED & UXO procedures, Radio Communications, and the list goes on," said Cadet Carmyn Brown. "Every cadet was given a handful of scenarios that allowed them to demonstrate their ability to learn and apply the newly taught skills."
The cadets were placed in various leadership positions to help them learn about their leadership styles. They quickly learned there is little time to be nervous and confidence and wingmanship are contagious.
"Challenging myself proved to be successful for me as I graduated from field training in the top 10% of the encampment as a Distinguished Graduate and was nominated to return as a cadet training assistant next summer," said Brown.
---

Last summer Cadet Carter Hunt deployed with the U.S. Army to Panama, Central America, to become better informed about their culture, establish a better relationship with the police force and local populous, and better understand how the U.S. strategically relies on the working relationship between the two countries.
"During the month-long mission in Panama, I had the opportunity to work under Special Forces LTC Trey Lachicotte, who currently serves as the PMS at Notre Dame University. His relationship with the police force in the area throughout his years working in Panama allowed our group to experience phenomenal training opportunities," said Hunt.
During the first week on Panama's borders along the Darien Jungle, participants repaired schoolhouses in local villages and got a firsthand look at the daily struggle required to protect the villages from Columbian drug smuggling. They set traps, purified water, and built shelters from the "Tigre" forces in the jungle. They then moved toward the Panama Canal to better understand the strategic importance of the canal not only to the U.S. but also the world. They also visited the U.S. Embassy in Panama City to learn about the U.S./Panamanian relationship.
"Overall, my mission was the greatest professional development I have received so far in my military career," Hunt said. "I was afforded the opportunity to work under so many great leaders, understand a different culture and language, and broaden my view on how the United States fights and wins the nation's wars."
A month after deployment to Panama, Hunt reported to Fort Campbell, Ky., to attend Sabalauski Air Assault School, a ten-day course centered around U.S. Army aircraft maneuverability and rappelling.
"It was an eye-opening course and gave me an opportunity to interact with soldiers in a way that few cadets get the chance to do. I learned so much from these soldiers and officers about day-to-day Army life, as well as professional leadership development," he said "This course tested me physically with a twelve-mile culminating foot march and mentally with a series of tests, both hands-on and in the classroom. My time at the school allowed me to not only learn more about myself but also how to better cooperate with others and work as a team to lead and win."
---
Calendar of Events - Fall 2019
| | | |
| --- | --- | --- |
| Commandant's Luncheon | Friday Nov. 22 | LSU Union |
| Annual Meeting | Friday Nov. 22 | LSU Union |
| President's Reception/Dinner | Friday Nov. 22 | LSU Faculty Club |
| LSU Salutes Annual Assembly | Saturday, Nov. 23 | LSU War Memorial |
| LSU Salutes LSU vs. Arkansas | Saturday, Nov. 23 | Tiger Stadium |
| Commissioning | Thursday, Dec. 19 | TBD |
---
| Connect with Us: | |
| --- | --- |
SPECIAL THANKS TO OUR CORPORATE SPONSORS
Lamar Companies – Lipsey's – Taylor Porter Law Firm