The Shield and Sword Newsletter - Online • February 2018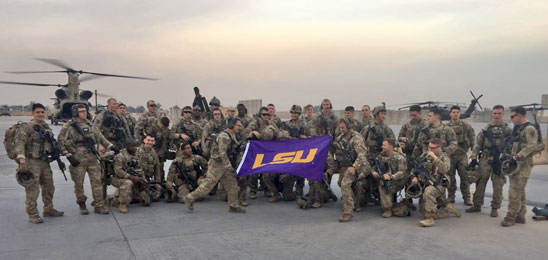 LSU at Camp Taji
1LT Kurt J. "Joe" Perque, holding the flag at right, and his platoon hoist an LSU flag at Camp Taji, Iraq, after conducting air assault training exercises. Perque, platoon leader in the 10th Mountain Infantry Division in support of Operation Inherent Resolve, earned a degree in international studies in 2015. He participated in ROTC, was commissioned in 2015, and reported for active duty infantry in 2016.
The flag, which was flown at the Lod Cook Alumni Center/The Cook Hotel, is being escorted by 1LT Lisa Lewis (2016 MSW), executive officer of the 10th Mountain Infantry Division, to Baghdad, to be flown at the U.S. Embassy.
"Next, I'm going to see if the aviation unit can get some air time in neighboring countries," Perque writes. "My intention is to have this flag flown over as much of the region as possible and get certificates and pictures to authenticate."
---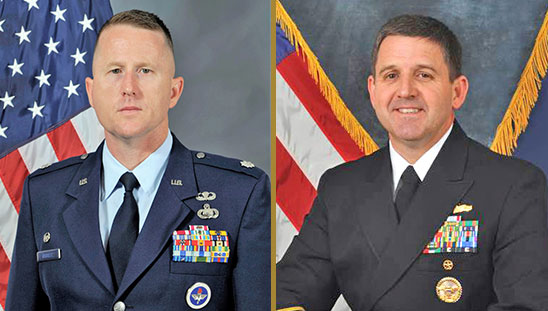 New Unit Commanders
Lt Col Robert B. Russell has assumed command of AFROTC Det 310. Russell was previously a professor of aerospace studies at Tulane University and commander of a satellite Air Force unit that administers a college-level officer training program serving nine universities in the New Orleans area.
He earned his commission through the U.S. Air Force Academy in 1966 and has served in a variety of positions as an intelligence officer at flight, squadron, and major command staff levels and as senior analytic tradecraft officer at U.S. Central Command. He has deployed to Italy, Iraq, and Djibouti.
Captain Dean Rawls Commanding Officer, NROTC Southern University, received his commission from Officer Candidate School in Newport, Rhode Island. He earned a bachelor's degree in mechanical engineering from the University of Southwestern Louisiana (University of Louisiana at Lafayette) and an M.B.A. from the College of William and Mary.
He completed the Navy's Nuclear Propulsion Program, Air Command and Staff College, and Joint Forces Staff College. His operational assignments include the USS Theodore Roosevelt, Special Boat Unit TWO SIX, USS Deyo, and USS Harry S. Truman. He was executive officer on the USS John Paul Jones and, as part of COMNAVSURFOR's DDG Sea Swap Initiative, served as executive officer on the USS Higgins. Additionally, he was reactor officer on the USS Harry S. Truman. His command tours include the USS Vandegrift and USS Leyte Gulf.
His shore assignments include Atlantic Fleet, Nuclear Propulsion Examining Board; U.S. Naval Forces Central Command; Office of the Secretary of Defense, Program Analysis and Evaluation; and Naval Air Force Pacific commander.
---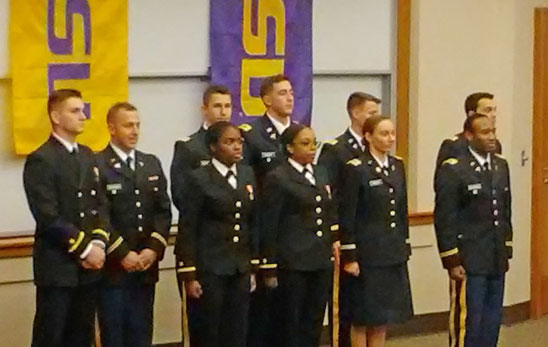 10 Recognized at Fall Commissioning
Ten graduates were recognized during LSU's fall commissioning ceremony in December. LSU alumnus Brig. Gen. Patrick R. Bossetta, assistant adjutant general Louisiana Army National Guard, served as keynote speaker for the ceremony. Commissioned were:
LSU Army ROTC – 2LT Ashley Nicole Wright,Crowley, La.; 2LT Mason Grant Mayeaux, Ragley, La.; 2LT Zachary Aaron Lederman, Chicago, La., and 2LT Matthew Alan Kinsey, League City, Texas.
Southern Navy ROTC – ENS Dmitri Arnell Baldsin, Houston; ENS Kyle Arron Watros, Long Beach, Miss.; and ENS Juaná Rochell Boone, Pine Bluff, Ark.
ULL Army ROTC – 2LT Lane Vincent Falcon, Shreveport, La.; 2LT Stone David Labuff, Kinder, La.; and 2LT Patrick Maurice Williamson, Girardeau, Mo.
---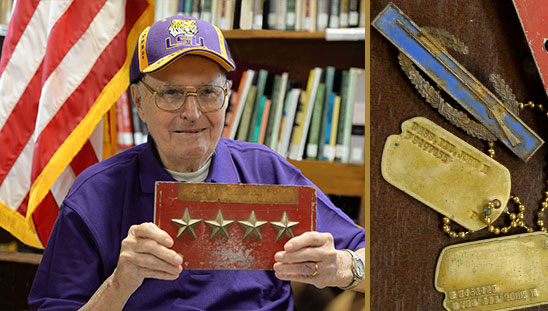 Patton License Plate Donated to Military Museum
Among the many items that will be included in the LSU Military Museum's exhibits is a license plate once affixed to GEN George S. Patton, Jr.'s staff car. The 4 Star tag was donated to the museum by Patton's motorcade officer, LSU alumnus John M. Bass, of Jackson, Miss.
Bass volunteered for service just as he started LSU in 1943 and while on active duty was assigned to Patton's motor pool. Following the general's serious injury in a car accident near Mannheim, Germany, in 1945, the wrecked car was towed back to the motor pool, and the unit's commanding officer removed the undamaged plate and gave it to Bass to keep.
When Bass returned to the States – and to LSU, where he earned a bachelor's degree in civil engineering in 1948 – the plate was with him. "Only a very few of Mr. Bass's closest friends were made aware of this treasure until just prior to his death," said Bill Hulsey a former president of the Tiger Athletic Foundation, a close friend of the family, and a member of Cadets of the Ole War Skule.
Bass made arrangements to donate the license plate to the LSU Military Museum. The presentation ceremony was conducted at his home.
---
Cadets Celestial
Willis Beals Scudder, 1942 BACH H&SS, Jan. 4, 2018, Alexandria, Va.
---
Mark Your Calendar
Spring 2018
| | | |
| --- | --- | --- |
| Corps Wars | TBD | Parade Ground |
| PR Drill Competition | Saturday, April 7 | Parade Ground |
| President's Day Parade | Thursday, April 19 | Parade Ground |
| Joint ROTC Awards Ceremony | Thursday, April 19 | LSU Union Ballroom |
| Reception for Parade/Ceremony | Thursday, April 19 | LSU Union Ballroom |
| Military Ball | Friday, April 13 | Renaissance BR |
| Board Meeting | Thursday, May 10 | LSU Faculty Club |
| Commissioning Ceremony | Thursday, May 10 | LSU Union Theater |
| LSU Memorial Day Ceremony | Wednesday, May 30 | LSU War Memorial |
| Luncheon | Wednesday, May 30 | LSU Faculty Club |
| Hall of Honor Nominations | June 1 | Deadline for submission |
Fall 2018
| | | |
| --- | --- | --- |
| Corps Orientation | Friday Aug. 17 | Coast & Environment Bldg. |
| "Welcome Back" | Thursday, Sept. 6 | MSB |
| LSU Salutes-Luncheon | Friday, Nov. 2 | LSU Union Ballroom |
| LSU Salutes - President's Reception/Dinner | Friday, Nov. 2 | LSU Faculty Club |
| LSU Salutes - Annual Assembly | Saturday, Nov. 3 | LSU War Memorial |
| Annual Meeting | Saturday, Nov. 3 | LSU Faculty Club |
| LSU Salutes - Alabama vs. LSU | Saturday, Nov. 3 | Tiger Stadium |
| Commissioning | Thursday, Dec. 13 | TBA |
---
| Connect with Us: | |
| --- | --- |