23 Graduates Commissioned, Honored at Spring Commencement Events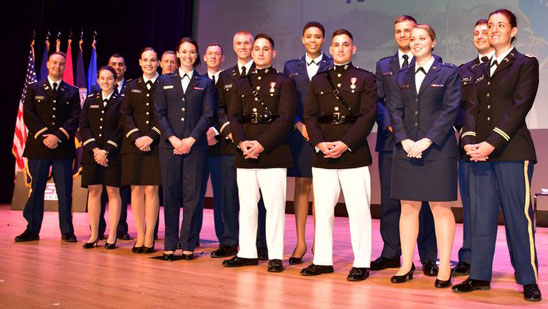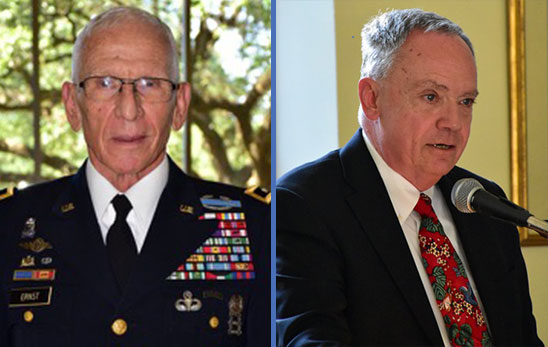 Twenty-three spring graduates were recognized at the Spring Commissioning Ceremony in the Union Theater on May 10.
The group included graduates of LSU's Army and Air Force ROTC program and Southern University's Navy ROTC program, as well as University of Louisiana at Lafayette graduates who took part in LSU Army ROTC. Retired U.S. Army MG Carl F. Ernst was guest speaker for the occasion and gave the commissioning oath.
Corps Achievement Award recipients were Kazimira Izabella Karwowski, Army; Mercedes Alexandria Holland, Navy; Zachary James Spears, Marines; and Jacob Ryan Hughes, Air Force.
Also recognized were those who took part in Cadets of the Ole War Skule's capstone experience, Senior Symposium, a yearlong program for select ROTC seniors that prepares the future officers for leadership assignments and responsibilities after graduation.The 2018 class also was honored at the Senior Symposium Closing Dinner at the Faculty Club that evening, with retired U.S. Army MG Hunt B. Downer serving as master of ceremonies.
Commissioned were:
Air Force: Dominic Daniel Centanni, Kathleen Marie Dickerson, Kaylin Paige Hankerson, Jacob Ryan Hughes, Dane Ray Ivy, Sarah Rachelle-Jalane Mai, Khoa Dang Nguyen, and Cole Henderson Hyler Wolf.
Army: Grant Matthew Carrier, Matthew Ethan Cavell, Oliva Elizabeth Colton, Frank Joseph Fontenot, Kazimira Izabelle Karwowski, Ryan Kristopher Mixon, Cody Alan Nash, Michael Joseph Orgeron, Evan Jordan Wesslund, and Kathryn Anne Winski.
Navy: Connor Matthew Black, Brandon Leonardo Davalos-Barreto, Mercedes Alexandria Holland.
Marine Corps: Jeremy Michael Spears, Zachary James Spears.