The Shield and Sword Newsletter - Online • March 2019
President's Message
Greetings! We are moving quickly toward the end of the spring semester. As part of this newsletter, you are receiving the schedule of events and programs for the spring and fall semesters. Please record these dates on your personal calendars and plan to join us when you can. It is always great to have our members present and participating, and members of The Corps and Cadre welcome these opportunities to visit with you.
We appreciate your efforts to submit recommendations and nominations each year for the Hall of Honor. The June 1 deadline will be here before we know it, so you are encouraged to make every effort to attend to this process as soon as possible.
Many exciting developments have occurred within the LSU Military Excellence Campaign, and the work on Memorial Tower is moving forward. Jerry Campbell is the architect for this "renovation & restoration" project, and we are honored to be working with him. He assures us that the work is proceeding according to the schedule. If you happen to be on campus, you will see the protective-wrap for the shaft of Memorial Tower. It is a constant reminder of the important work being done. If you have not yet made a donation to this campaign, you are encouraged to do so. Your commitment to this project is critical to its success.
We encourage you to mark your calendar for the week of Nov. 2-7, 2020, for the "Official Grand Opening of the LSU Military Museum." The events will be a special experience for everyone in the LSU family – especially those with ties to the armed forces. We are in the process of finalizing details, and we want you all to join us for this wonderful occasion. It will definitely be a time to remember.
As always, if you have any questions, please feel free to contact us at cadets@lsu.edu or call 225/ 578-0420.
For the Long Purple Line...
John W. Milazzo, Jr.
President
---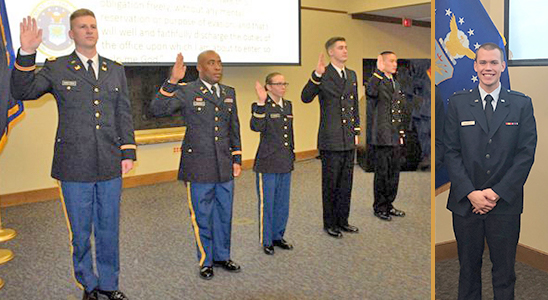 Fall Commissioning
Brigadier General John B. Dunlap III, assistant adjutant general Louisiana Army National Guard, served as keynote speaker for the fall commissioning ceremony in December 2018 and administered the Oath of Office to the newly commissioned cadets. Commissioned were:
LSU Army ROTC
LT Lukas Kelvin Dretzka
University of Louisiana-Lafayette ROTC
LT Didi Arthur Gattey and LT Ashley Lynn Henry
Southern Navy ROTC
Ensign Zackary Robert Blackburn and Ensign Daniel Minh Nguyen
LSU Air Force ROTC
Lt Nikolaus J. Bihlmeyer was commissioned on Feb. 14, 2019.
---

Top Honors
Student Veterans of LSU was selected as Student Veterans of America (SVA) Chapter of the Year from among 1,500 student veteran chapters across the country. Twelve members attended the national conference in January in Orlando, Fla., to engage and learn from more than 2,000 of their peers and bringing home a plaque that highlights their recognition and accomplishments. In addition, LSU Military & Veterans Program Director Sachiko Cleveland was among the five finalists for the SVA's Advisor of the Year award.
---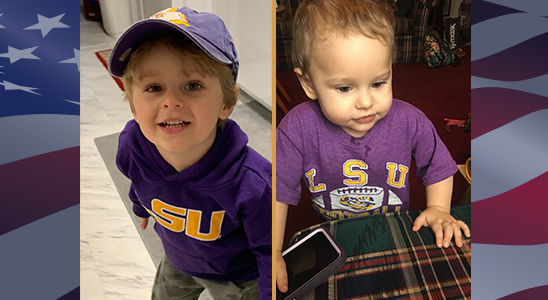 Future Cadets
Former Professor of Military Science LTC (RET) Mark A. Caruso shares photos of his grandchildren, two-and-a-half-year-old James Barnette and eighteen-month-old Henry Whitt. "They are both Tiger cubs now but definitely future Tiger cadets," Caruso said.
---
Heroic Efforts
U.S. Air Force Maj. Christopher Duhon, 2004 BACH SCI, recounts what happened when his B-1 bomber caught on fire mid-flight in May 2018. He and other members of the crew were awarded the Distinguished Flying Cross for their heroic efforts and composure in safely landing their aircraft.
---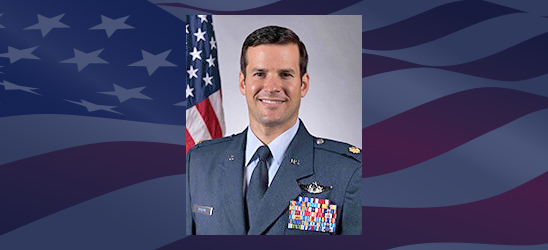 Major Christopher N. Duhon, Chief of the Future Operations Division, Air Forces Strategic (AFSTRAT)-Air, Barksdale Air Force Base, La., was an invited speaker at the annual National Character and Leadership Symposium, a premier national symposia in the field of character and leadership based on the U.S. Air Forces Academy Outcomes. Among the featured speakers were CSAF General David L. Goldfein, Secretary Leon Panetta, and Dr. Brené Brown.
Duhon shared some of his ideas and standards as related to leadership and presented a personal overview of the in-flight fire emergency and how he and the crew responded to the emergency. For their bravery, the crew was awarded "The Distinguished Flying Cross." (See story above.)
As the air component to U.S. Strategic Command, AFSTRAT-Air provides long-range strike and strategic deterrence to combatant commanders worldwide. They oversee five bomb wings, three ICBM wings, an air base wing, a helicopter group, and a command and control (C2) operations group, which includes the Air Force's B-1, B-2 and B-52 bomber forces, ICBM, E-4B, and UH-1 aircraft.
---
The Fightin' Fourth Change of Command
For the 55th time in the history of the Air Force, command of the 4th Airlift Squadron (AS) at McChord Field was passed. Standing on the port side of a C-17, Lt. Col. Jessica Regni passed the squadron's guidon and campaign ribbons to Lt. Col. Sean Burke, 2003 BACH ENGR, in a change of command ceremony in Hangar 9 in February.
---
Cadets Celestial
LTC Frank M. O'Quinn, 1949 BACH ENGR, 2008 Hall of Honor Inductee, Feb. 9, 2019, Baton Rouge, La.
---
Calendar of Events - Spring 2019
| | | |
| --- | --- | --- |
| Corps Wars | TBD | Parade Ground |
| PR Drill Competition | Saturday, April 6 | Parade Ground |
| President's Day Parade | Thursday, April 11 | Parade Ground |
| Joint ROTC Awards Ceremony | Thursday, April 11 | Union Ballroom |
| Parade/Awards Reception | Thursday, April 11 | Union Ballroom |
| The Corps Military Ball | Friday, April 12 | TBD |
| Board Meeting | Thursday, May 9 | Faculty Club |
| Commissioning Ceremony | Thursday, May 9 | Union Theater |
| Memorial Day Ceremony | Thursday, May 30 | LSU War Memorial |
| Memorial Day Luncheon | Thursday, May 30 | Faculty Club |
| Hall of Honor Nominations | Due Saturday, June 1, 2019 | |
Calendar of Events - Fall 2019
| | | |
| --- | --- | --- |
| Orientation for The Corps | Friday, Aug. 23 | Coastal Studies Bldg. |
| Welcome Back | Thursday, Sept. 5 | Military Science Bldg. |
| LSU Salutes Registration | Thursday Nov. 21-Friday Nov. 22 | Faculty Club |
| Commandant's Luncheon | Friday Nov. 22 | LSU Union |
| Annual Meeting | Friday Nov. 22 | LSU Union |
| President's Reception/Dinner | Friday Nov. 22 | LSU Faculty Club |
| LSU Salutes Annual Assembly | Saturday, Nov. 23 | LSU War Memorial |
| LSU Salutes LSU vs. Arkansas | Saturday, Nov. 23 | Tiger Stadium |
| Commissioning | Thursday, Dec. 19 | TBD |
---
| Connect with Us: | |
| --- | --- |