The Shield and Sword Newsletter - Online • May 2017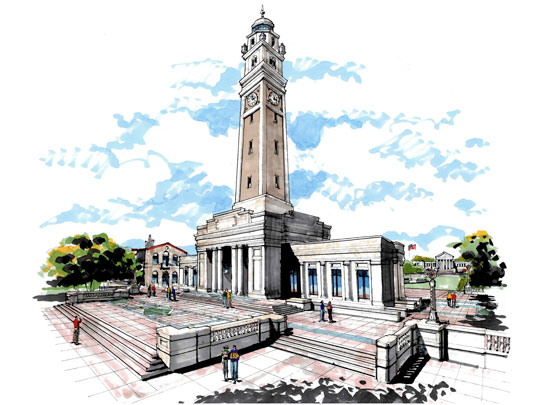 Rendering by Jerry M Campbell and Associates
Celebrating LSU's Military Heritage
With a nod to the past and a salute to the future, LSU celebrated its military heritage with three major events on April 20.
The afternoon's activities began with a ceremony marking the initial phase of the anticipated restoration and renovation of Memorial Tower, which will house the LSU Military Museum. Following the ceremony, the traditional President's Day Parade and Change of Command Ceremony for the LSU Corps of Cadets at the LSU War Memorial on the Parade Ground. The Corps of Cadets includes the Army and Air Force ROTC units at LSU and the Naval ROTC unit at Southern University. After the parade, cadets and midshipmen were recognized at the sixth annual Joint ROTC Awards Ceremony, which was followed by a reception for honorees and their families and guests.
Photos by Ray Dry and Cody Willhite/LSU Strategic Communications
---

Farewell Dinner
LSU and Cadets of the Ole War Skule paid tribute to outgoing NROTC Commander at Southern University, CAPT Anthony Chatham, who is retiring from the United States Navy, and LSU Commandant of Cadets and Professor of Military Science LTC Lawrence House, at a farewell dinner on May 2. Friends, colleagues, cadets, and midshipmen gathered at the City Club of Baton Rouge for the event to thank House and Chatham for their service to LSU and Southern and the LSU Corps of Cadets. LTC House will be assuming new duties with Cadet Command at Fort Campbell, Ky.
Photos by Ray Dry
---
Senior Symposium Closing Dinner

Members of the inaugural Ole War Skule Senior Symposium class were honored on May 11 at the LSU Faculty Club. They were joined by members of their families, presenters, and selection team members as well as the ROTC Cadre and alumni.

The symposium engages and challenges participating graduating seniors and commissionees in an experience growing out of the rich military history and traditions of the LSU Corps of Cadets. It enhances their total knowledge base as participating cadets and midshipmen and strengthens their preparation to become effective young officers. Selection to the symposium is based on strong character, military bearing, scholarship, and leadership.

Photo by Ray Dry
---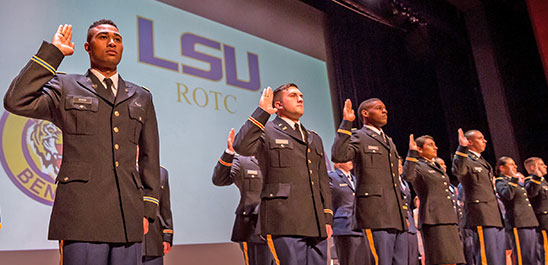 20 Cadets Commissioned at Spring Ceremony
Twenty LSU graduates were recognized during the Spring Commissioning Ceremony on May 11 in the Union Theater. Air Force Col. Jeffery F. Staha was the guest speaker for the ceremony and gave the commissioning oath.
Ten LSU graduates from the Army ROTC program and six graduates from the Air Force ROTC program were commissioned. Four LSU students, who participated in Southern University's Navy ROTC program, were also commissioned. In addition, two graduates from the University of Louisiana at Lafayette that took part in LSU's Army ROTC program were commissioned.
Photo by Eddy Perez/LSU Strategic Communication
View event photos at the Cadets of the Ole War Skule website.
---
Cadets Celestial
William A. Brookshire, April 14, 2017, Pasadena, Texas
---
Fall 2017
| | | |
| --- | --- | --- |
| Corps Orientation | August 18 | Coastal Studies Building |
| Welcome Back | August 31 | Military Science Building |
| LSU Salutes Luncheon | November 10 | LSU Union Ballroom |
| LSU Salutes President's Reception Dinner | November 10 | LSU Faculty Club |
| LSU Salutes Annual Assembly | November 11 | LSU War Memorial |
| Annual Meeting | November 11 | LSU Faculty Club |
| LSU vs. Arkansas | November 11 | Tiger Stadium |
---