The Shield and Sword Newsletter - Online • November 2018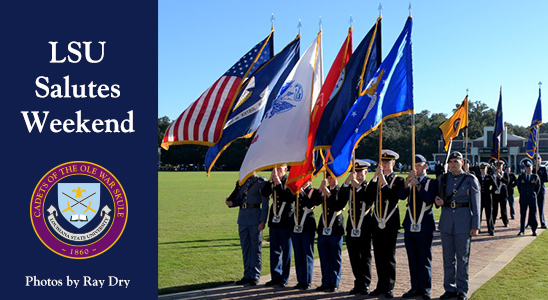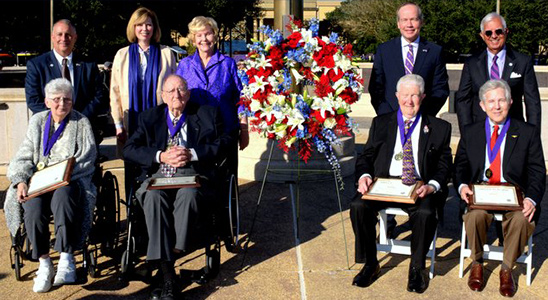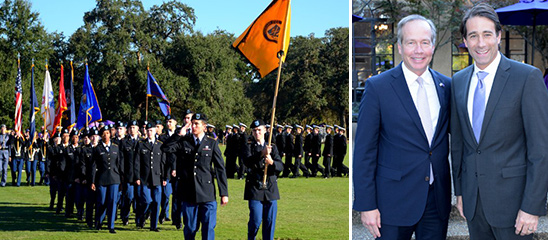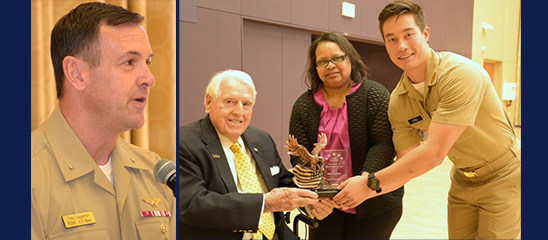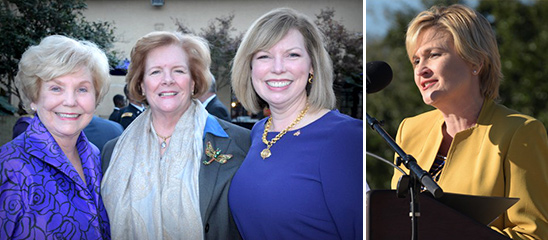 LSU Salutes Weekend
4 Inducted into Military Hall of Honor
Four LSU graduates were inducted into the Hall of Honor for Distinguished LSU Military Alumni during LSU Salutes 2018. The event is co-sponsored by the university and Cadets of the Ole War Skule. Honored were the late U.S. Army 1LT Christopher W. Barnett, of Baton Rouge; Benjamin R. Franklin, III, of Baton Rouge; retired U.S. Army LTC Robert L. Freshley, Sr., of Jeanerette, La.; and retired U.S. Air Force Col Albert W. Perez, of Baton Rouge.
The ceremony was held on Saturday, Nov. 3, at the LSU War Memorial on the Parade Ground. The group was also recognized during pre-game activities at the LSU vs. Alabama football game at Tiger Stadium
On Friday, Nov. 2, the inductees were recognized at the Commandant's Luncheon in the LSU Student Union Ballroom and at the President's Reception/LSU Salutes Dinner at the LSU Faculty Club. Rear Admiral Craig A. Clapperton, Deputy Director for Future Operations, U.S. Cyber Command, delivered the keynote address at the Commandant's Luncheon, and Congressman Garret N. Graves was guest speaker at the dinner Friday evening.
---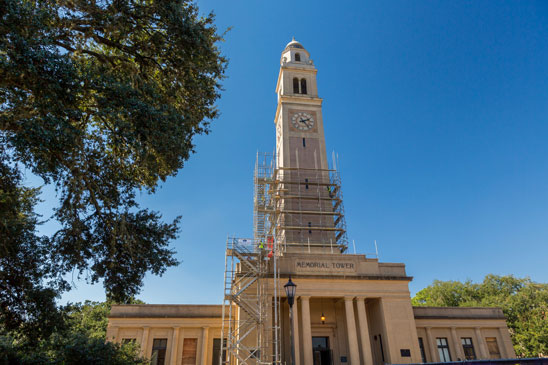 Photo by Colby D. Sterling
Tower Restoration Update
At long last – after almost 20 years of conversations and planning – the renovation and restoration of Memorial Tower has begun. Work will be done on the building's interior and exterior, as well as the surrounding plaza. The anticipated completion date is the summer of 2020, with a formal grand opening of LSU Military Museum during LSU Salutes week Nov. 2-7, 2020. Restoration updates will be included in future issues of this newsletter. To view the potential renovation and restoration designs, visit this link.
If you have not already contributed to the LSU Military Excellence Campaign for Memorial Tower and the LSU Military Museum, please do so today. Checks should be made payable to LSU Foundation and include Project # 103034. If you have questions, please contact us at 225-578-0420 or cadets@lsu.edu. Thank you for your continuing support for Cadets of the Ole War Skule and for this effort which seeks to ensure that LSU's rich military history and heritage are preserved for future Tigers and alumni and friends of LSU. For the Long Purple Line...
---
Rededication of Memorial Oak Grove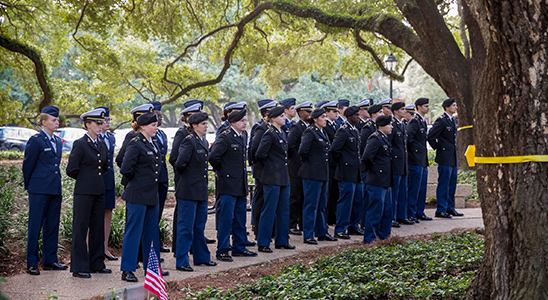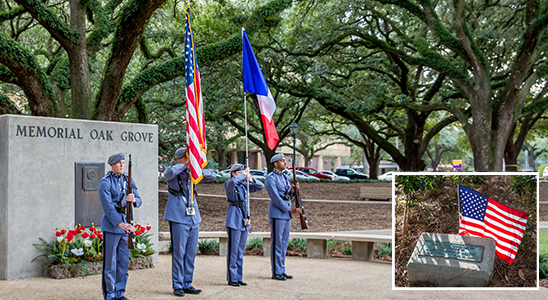 Thirty-one LSU Army and Air Force cadets, and Navy midshipmen took part in the Memorial Oak Grove rededication ceremony on Veterans Day, marking the 100th anniversary of the end of World War I on Nov. 11, 1918. Memorial Oak Grove was dedicated on March 12, 1926, to honor the 30 LSU men who lost their lives in the war. Thirty-one live oak trees were planted, one for each of the fallen and one for an unknown soldier, as a living reminder of their sacrifice and service to the country.
Photos by Eddy Perez/LSU Strategic Communications.
---
Senior Symposium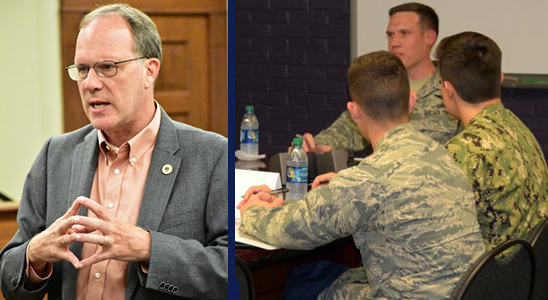 CAPTAIN Franklin Foil, Appellate Judge at the Navy and Marine Corps Court of Criminal Appeals, Washington, D.C., led the October Senior Symposium session on "Enlightening Future Young Officers on the UCMJ." The November session, "Perspectives: Rhetoric vs. Reality," was led by U.S. Air Force Maj Eric J. Mehrtens, CWMD Planner, SOCOM CWMD Fusion Cell
---
Tigers Salute 'The Silent Season'

100 years ago LSU football players hung up their cleats for a season and a greater cause. Many students and faculty of the Ole War Skule left to serve their country in World War I, continuing the school's military tradition of the long purple line. In honor of those who did not return, 30 trees were planted in Memorial Oak Grove, with one additional tree dedicated to the unknown/missing in action. To commemorate the century mark of the Silent Season of 1918, LSU emerged Saturday, Oct. 20, from the Tiger Stadium chute in specially designed uniforms that saluted the past and paid homage to heroes.

Photo and copy courtesy LSU Athletics
---
| Cadets of the Ole War Skule member LTC Charles Coates shares the story of "How the Tigers Got Their Name," written by his grandfather, the late Charles E. Coates, dean emeritus of the College of Pure and Applied Science and founder and coach of the first LSU football team in 1893. | |
| --- | --- |
---
Cadets Celestial
Maj. (USAF Ret.) John L. "Boodie" Boudreaux, Jr., 1972 BACH H&SS, Oct. 19, 2018, Collierville, Tenn.
O. Fred Loy, Jr., 1962 BACH H&SS, Oct. 20, 2018, Baton Rouge, La.
---
Calendar of Events - Spring 2019
| | | |
| --- | --- | --- |
| Corps Wars | TBD | Parade Ground |
| PR Drill Competition | Saturday, April 6 | Parade Ground |
| President's Day Parade | Thursday, April 11 | Parade Ground |
| Joint ROTC Awards Ceremony | Thursday, April 11 | Union Ballroom |
| Parade/Awards Reception | Thursday, April 11 | Union Ballroom |
| The Corps Military Ball | Friday, April 12 | TBD |
| Board Meeting | Thursday, May 9 | Faculty Club |
| Commissioning Ceremony | Thursday, May 9 | Union Theater |
| Memorial Day Ceremony | Thursday, May 30 | LSU War Memorial |
| Memorial Day Luncheon | Thursday, May 30 | Faculty Club |
| Hall of Honor Nominations | Due Saturday, June 1, 2019 | |
---
| Connect with Us: | |
| --- | --- |