The Shield and Sword Newsletter - Online • October 2017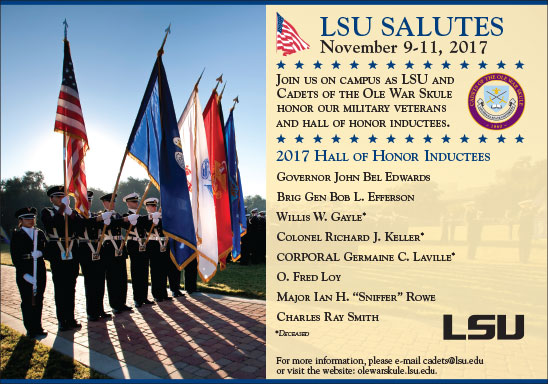 ---
From the President
Greetings! We continue to march quickly toward the weekend of November 9-11 and LSU Salutes. You should have received the registration information for the event. Please complete and return it as soon as possible. We look forward to having as many of you as possible join us for this special weekend and for the induction of our eight new Hall of Honor recipients.
We appreciate the responses regarding the report from the Nominating Committee, and we plan to move forward with three nominees. Potential NEW members are Judge Mike McDonald and Mr. Jake Netterville. The RETURNING member is RADM Ryland Percy. They will be voted on during the Annual Meeting on November 11.
Many exciting developments are taking place with the LSU Military Excellence Commission, and plans are moving forward as quickly as possible. As many of you know, Mr. Jerry Campbell has been approved as the architect for this "renovation & restoration" project for Memorial Tower, and we are honored to be working with him. He was also the architect for the new Veterans Student Center which should be ready for occupancy in early December.
Last, but not least, it is with sad hearts that we share with you the passing of one of our students at LSU who was part of the Naval ROTC program at Southern University. He was Midshipman Michael G. Nickelotte. Please keep his family and many friends in your prayers.
As always, if you have any questions, please feel free to contact us at cadets@lsu.edu or call 225-578-0420.
For the Long Purple Line . . .
John W. Milazzo, Jr.
President
---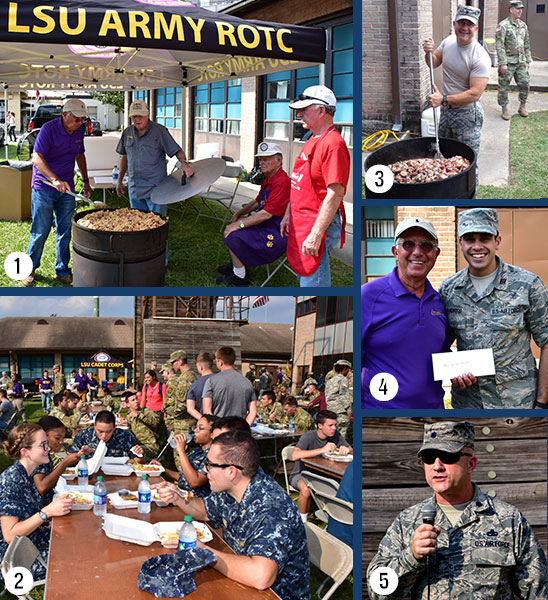 Welcome Back
Cadets of the Ole War Skule prepared and served a jambalaya dinner to welcome returning ROTC Corps of Cadets and Cadre back to campus in September. The annual event provides a venue for seasoned veterans and alumni to visit with the young men and women who will carry LSU's military legacy into the future. Photos by Ray Dry
---
Senior Symposium
COL William Norris, guest speaker at the third Senior Symposium session talked to cadets about "Foreign Culture Awareness." Other topics to be addressed during the fall semester include Responding to Injuries: Both Physical & Emotional; Enhancing Communication Effectiveness; and Family Relations/Personal Finances. The Ole War Skule Senior Symposium, a yearlong program for selected senior Army and Air Force Cadets and Navy Midshipmen at LSU is designed to prepare the future officers for leadership assignments and responsibilities after commissioning.
---
| MAJ Rian Carter, recently named Professor of Military Science, earned his commission from the New Mexico Military Institute in 2000. Two years later, he earned a bachelor's degree in finance from Portland State University and was assessed onto Active Duty as an Ordnance Corps Officer. His leadership and logistical staff positions throughout his career have earned him numerous awards, among them the Bronze Star Medal (with oak leaf cluster); Meritorious Service Medal (with five oak leaf cluster); Army Achievement Medal (with oak leaf cluster); Global War on Terrorism Expeditionary and Service Medals; Iraq Campaign Medal; Afghanistan Campaign Medal; NATO Medal, and the Combat Action Badge. He is also a recipient of The Ordnance Order of Samuel Sharpe. MAJ Carter and his wife, Danielle, have two children – Zachary (13) and Gabriel (11). The family resides in Geismar, La. | |
| --- | --- |
---
Cadets Celestial
George Tidwell Semmes, July 19, 2017, Memphis, Tenn.
---
Remembering George Semmes
Cadets of the Ole War Skule member Steve Mayeux shared memories of the passing of George Tidwell Semmes, one of our older Pershing Rifles.
Semmes graduated from the Gulf Coast Military Academy in 1942 and entered LSU. He entered military service the following year serving in World War II as second lieutenant and served as a platoon leader with the 9th Armored Division in Europe. He received three battle stars for the Battle of the Bulge, Battle of Germany, and the final stages at the Elbe River and was leader of an Anti-Tank Platoon on an attack in Czechoslovakia when the war ended. He also received the Purple Heart when wounded three days before his division captured the Remagen Bridge across the Rhine River. He later served as a First Lieutenant Company Commander of "C" Company, 56th Armored Infantry Battalion of the 4th Armored Division. He attended the Nuremberg trial during the early months of 1946 and returned home later that year.
Mayeux writes: "Tidwell was the great-grandson of Admiral Raphael Semmes of the Confederate Navy and one of the first professors at LSU. For those familiar with Raphael Semmes Drive on the LSU campus, when Tidwell was a freshman cadet, the Commandant of Cadets found out who his great-grandfather was and had young Tidwell join him at a luncheon as his guest. Tidwell told me that the colonel treated him like he was some kind of celebrity and all the while he was totally intimidated about being in the presence of a real Army colonel.
To the best of my knowledge, we only have one surviving member of that group – John Laborde, of New Orleans. If anyone knows of other living WWII vets/LSU Pershing Rifles please notify our association historian at lsud6pr@gmail.com."
---

The Creation of the LSU Corps of Cadets Distinctive Unit Insignia
By Richard J. Cawthon
The Distinctive Unit Insignia of the LSU Corps of Cadets was created in 1975-76. I was an Army ROTC cadet at LSU from the fall of 1973 until my graduation and commissioning in the spring of 1976. During the summer of 1975, I attended ROTC Advanced Camp, which was held in those days at Fort Riley, Kan., and immediately afterwards participated in Army Orientation Training (AOT), in which selected cadets were attached to active army units for two weeks to observe day-to-day operations and training. I was attached to the 2nd Battalion, 67th Armor, which was part of the Second Armored Division, stationed at Fort Hood, Texas. During my brief time at Fort Hood, I noticed that every battalion-size unit had a distinguishing insignia, which was worn on the tan uniform and the green service uniform as a small pin, typically in the shape of a shield, bearing the unit's coat of arms, and was referred to officially as the Distinctive Unit Insignia.
After more research, I found that the ROTC programs at many colleges had distinctive unit insignias, but LSU did not have one of its own, and had apparently never had one in the past. That discovery prompted me to start doodling some ideas for a coat of arms and an insignia for the LSU Corps of Cadets. I did some reading on the subject of heraldry so that my design would be consistent with the traditions of proper military heraldry.
Eventually, I came up with a simple but effective design that consisted of a shield emblazoned with two swords (representing the Army and the Air Force, the two service branches in the LSU Corps of Cadets), an open book (representing education and scholarship), and a gold fleur-de-lis (representing the distinctive French heritage of Louisiana). I initially proposed that the background color (called a "field" in the vocabulary of heraldry) would be purple, but I discovered that the color purple is rarely used in heraldry, and I found that it would be difficult to specify a particular shade of purple. Upon doing further research, I learned that before purple and gold had been adopted as the school colors of LSU, the original colors had been blue and white. Blue was also the color of the field of the state flag of Louisiana, and it had been historically the color of the field of the French royal coat of arms, which was adorned with fleurs-de-lis. I thought it appropriate, therefore, to use blue as the field of the proposed coat of arms and insignia. I thought it was doubly appropriate because a shade of "purple" used on many of the LSU athletic uniforms is dark blue-violet almost approaching dark blue. On a scroll below the shield I placed the words "The Ole War Skule," the historic nickname for LSU, commemorating its early identity as a military school.
I finalized my proposed design during my senior year and presented it to then-Commandant of Cadets Col. W.W. Williams, who forwarded the proposed design to the Institute of Military Heraldry. The design was approved, but I did not see the resulting pin until I visited the campus a year or so after my graduation. When I saw the pin, I was surprised to find that Col. Williams had apparently specified that the background color of the distinctive insignia would be rendered not in the deep blue of the state flag, but in the very light blue that is the traditional color of the infantry branch of the U.S. Army. It is interesting to note, however, that on the official regimental flags and company guidons of the Army's infantry units, the field is dark blue, not pale blue.
Richard J. Cawthon was an Army ROTC cadet at LSU from 1973 to 1976. From 1976 to 1980 he served as an engineer officer in the U.S. Army. Later, after receiving a Master of Architectural History degree at the University of Virginia, he worked professionally as an architectural historian. He is the author or co-author of three books.
---
Fall 2017
| | | |
| --- | --- | --- |
| LSU Salutes Luncheon | November 10 | LSU Faculty Club |
| LSU Salutes President's Reception | November 10 | LSU Faculty Club |
| LSU Salutes Dinner | November 10 | LSU Faculty Club |
| LSU Salutes Annual Assembly | November 11 | LSU War Memorial |
| Annual Meeting | November 11 | LSU Faculty Club |
| LSU vs. Arkansas | November 11 | Tiger Stadium |
---
| Connect with Us: | |
| --- | --- |