The Shield and Sword Newsletter - Online • Spring 2020
From the President
Greetings on behalf of the leadership of Cadets of the Ole War Skule. To say that we are living during challenging times is an understatement. We are experiencing circumstances that were never planned for – or even imagined – and striving to do our best to meet the challenges we are encountering.
I am happy to share with you a few items I hope you will find encouraging as we move forward with our plans for various events. As you know, events and programs at LSU have been suspended, and students will complete spring and summer courses online. With all of the challenges presented by the virus, the leadership of ROTC has made an administrative decision to include only the commissionees and their parents or spouse. You are invited to visit our website to better understand why these decisions were made. We are awaiting direction from the University as to how we might proceed with plans for the Memorial Day Ceremony and Luncheon and are planning for the fall Welcome Back event and Orientation Program. However, finalizing details will depend on the information we receive from LSU.
Work continues on the renovation and restoration of Memorial Tower, as is planning for the Grand Opening of the LSU Military Museum on Thursday, Nov. 5, during LSU Salutes week – Monday, Nov. 2 - Saturday, Nov. 7.
The highlight of LSU Salutes is the recognition of the 2020 Hall of Honor Inductees, and we encourage you to nominate those you feel would be worthy recipients. Information on the nomination process and the required forms are on the website – olewarskule.lsu.edu. The forms should be submitted electronically by the June 1 deadline.
We are always interested in welcoming new members and hope you will continue to contact those who might be assets to Cadets of the Ole War Skule.
We hope to see you soon. In the meantime, stay safe and remember – we are all in this together.
For the Long Purple Line...


Jake L. Netterville
President
Cadets of the Ole War Skule

---
Whitney Named to Hall of Fame

Tanya Whitney, Sorrento, La., was inducted into the Army Women's Foundation Hall of Fame in Arlington, Va., on March 11. A veteran of the U.S. Army and Louisiana National Guard, Whitney volunteers with several organizations supporting veterans, active military personnel, and their families. She has served as honor guard member at funerals for women veterans and gives educational presentations to schools, civic organizations, and other public groups on the service of women in the military and their impact on society. She is also a member of Ole War Skule Senior Symposium interview team.
---
Corps Officer Nominated for Promotion

Nominations for promotion of CAPT Dion D. English (1993 BACH H&SS) to the rank of Rear Admiral (lower half) were received in the Senate and referred to the Committee on Armed Services. He is currently assigned to the Joint Staff as deputy director, Supply and Distribution (J44).
English entered the Navy's Broadened Opportunity for Officer Selection and Training program. He was commissioned through Navy ROTC at Southern University. He earned master's degrees in business administration from Old Dominion University and in national security and strategic studies from Naval War College. He attended the Executive Program in Strategy and Organization at the Stanford Graduate School of Business.
A designated Surface Warfare Supply Corps Officer and Navy Expeditionary Supply Corps Officer, English is a member of the Defense Acquisition Corps and a Joint Qualified Officer. While serving as NAVSUP FLC Sigonella commanding officer, he earned recognition as member of the prestigious Admiral Stan Arthur Logistics Team of the Year. His personal decorations include Legion of Merit, Defense Meritorious Service Medal, Meritorious Service Medal, Navy Commendation Medal, Joint Service Achievement Medal, and Navy Achievement Medal.
---

PRIDC Drill Competition
Pershing Rifle Commander Cadet Crespo, left, presents the trophy for First Place in the Duel Competition to Cadet Mauer, representing the unit from Zachary High School, at the conclusion of the recent PRIDC Pershing Rifle Individual Drill Competition (PRIDC) at LSU. Winners were: Inspection, St. Amant; Armed Regulation, St. Amant; Tandem Exhibition, Zachary; Unarmed Exhibition, McKinley; Individual Exhibition, Zachary; Color Guard, St. Amant; Armed Exhibition, St. Amant; Top Male Physical Fitness, Cadet Adrian, St. Amant; Top Female Physical Fitness, Cadet McCoy, Pearl River Central; and Overall Winner, St. Amant.
---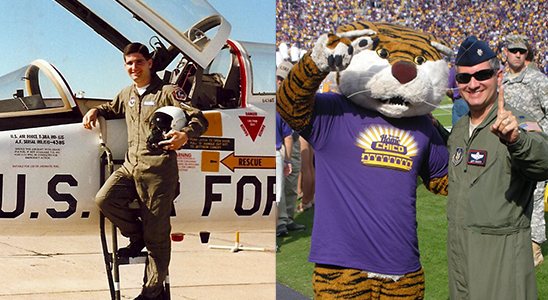 News from a Hurricane Hunter
Lt. Col. Jeff Ragusa (1986 BACH BUS), chief pilot with the 53rd Weather Reconnaissance Squadron, shares news with Cadets of the Ole War Skule.
"As chief pilot I lead a crew of at least five into – not over – hurricanes to provide data to the National Hurricane Center. When people hear on TV/radio where a storm is and what it is doing, it's because we just told them. I'll retire in June with 116 hurricane eye wall penetrations. In retirement, I'll be a business development specialist for Avion Solutions, helping develop the company's drone flying business across the U.S. Other than that, I'll be playing with grandkids."
Ragusa, commissioned through LSU AFROTC, served as Cadet Col and was a recipient of the LSU Presidents Medal for academic achievement. He served seven years on active duty as a pilot and twenty-six-plus years as a pilot in the USAF Reserves.
Congratulations, Jeff, and thank you for your service.
---
Calendar of Events - Spring 2020
| | | |
| --- | --- | --- |
| Hall of Honor Nominations | June 1 | Submission Deadline |
---
Cadets Celestial
Alden André, 1962 BACH H&SS, 2007 Hall of Honor Inductee, Feb. 8, 2020, Jarreau, La.
Laurance W.Brooks, 1955 BACH H&SS, Life Member, Cadets of the Ole War Skule, Feb. 21, 2020
Sidney Marshall Longwell, Sr., 1968 BACH H&SS, March 27, 2020, Baton Rouge, La.
---
| Connect with Us: | |
| --- | --- |
SPECIAL THANKS TO OUR CORPORATE SPONSORS
Lamar Companies – Lipsey's – Taylor Porter Law Firm