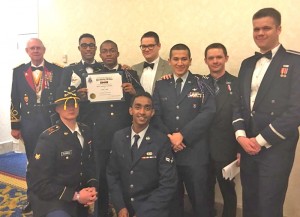 The National Society of Pershing Rifles, a military honor society for college-level students, recognized the Pershing Rifles of LSU as the "Best Company" nationwide at its annual national convention in March. The distinction recognizes the chapter that displays exceptional performance in service to the local community, as well as an outstanding commitment to military excellence and leadership development.
Members of the LSU organization traveled to Washington, D.C., to compete alongside more than 400 ROTC cadets and midshipmen representing more than fifty-five colleges and universities. The awards presentation took place at the society's formal dinner, which featured dignitaries including Deputy Commanding General of the U.S. Army Cadet Command Brig. Gen. Sean Gainey and former U.S. Secretary of State and Chairman of the Joint Chiefs retired Gen. Colin Powell. Powell is an alumnus of the Pershing Rifles organization.
Members of the company are:
Dimitri Bush, first-year mechanical engineering major, Lebeau, La.
Antonio Diaz, first-year kinesiology major, Metairie, La.
Todd Dixon, political science senior, New Orleans, La.
Roberto Duran, political science senior, Ft. Worth, Texas
Logan Futrell, first-year philosophy major, Colfax, La.
Elijah Jones, construction management sophomore, Franklinton, La.
Thomas Landreneau, general business sophomore, Spring, Texas
Evan McMichael, political science junior, Bossier City, La.
Sam Nelson, mechanical engineering sophomore,The Woodlands, Texas
Ethan Nicosia, landscape architecture junior, New Orleans, La.
Jacob Pikul, first-year mechanical engineering major, Warwick, R.I.
Blake Stewart, kinesiology junior, Baton Rouge, La.
Chris Scheuermann, information systems and decision sciences, Class of 2015, Alexandria, La.
Founded in 1940, Pershing Rifles is a student organization that serves as the official honor guard for LSU and the Baton Rouge community. The company can be seen on the field of Tiger Stadium at every home football game presenting the U.S. flag.
LSU Pershing Rifles: Best in the Nation