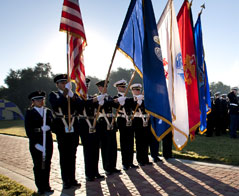 The annual President's Day Parade and Change of Command Ceremony for the LSU Corps of Cadets is scheduled for Thursday, April 20, at the LSU War Memorial. The Corps of Cadets includes the Army and Air Force ROTC units at LSU and the Navy ROTC unit at Southern University.
Prior to these events for The Corps, the university will host a ceremony marking the initial phase of the anticipated restoration and renovation of Memorial Tower, which will house the LSU Military Museum.
The ceremony will occur in front of Memorial Tower at 2:00 p.m. The President's Day Parade will begin at 3:10 p.m. on the Parade Ground.
The Joint ROTC Awards Ceremony for cadets and midshipmen will begin at 4 p.m. in the Cotillion Ballroom of the LSU Union.
The events are sponsored by the university and Cadets of the Ole War Skule.
For more information, contact:
Dr. Randy Gurie
Executive Director
Cadets of the Ole War Skule
225/ 578-0420
cadets@lsu.edu