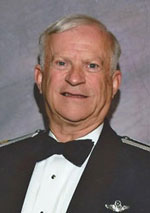 Maj. (USAF Ret.) John Landry "Boodie" Boudreaux, Jr. February 26, 1950 – October 19, 2018 Maj. (USAF, Ret.) John Landry "Boodie" Boudreaux, Jr., who served his country as a fighter pilot and entertained jazz lovers as a big band trumpeter, died on Oct. 19, in Holt, FL, in a single-engine aircraft accident. He was 68.
A native of Baton Rouge, LA, he graduated from Baton Rouge High School in 1968. He earned the rank of Eagle Scout. He received a Bachelor of Science degree with a minor in American history from Louisiana State University in 1972. Upon graduation, he was commissioned as a second lieutenant in the United States Air Force through ROTC.
As an Air Force command fighter pilot, John logged more than 4,000 hours in six fighter and trainer aircraft from 1973 to 1993 (F-15, F. 106, F-100, T-37, T-38 & T-33). He served as commander of two small flying units. He was stationed at Columbus AFB, MS; McChord AFB, WA; Langley AFB, VA; Tyndall AFB, FL; Osan AB, South Korea; Bitburg AB, Germany and Holloman AFB, NM. After retirement from active duty, John was employed by FedEx as a flight engineer in Memphis, TN. He retired in 2014 as an Airbus Captain with 20 years of service and more than 8,000 flight hours.
John's lifelong passion for music was cultivated during his years as a trumpet player and student conductor of the BRHS band, and deepened during four years as a member of the LSU Golden Band from Tigerland. He played trumpet for the Baton Rouge rock band Brass Mammoth and channeled musical influences such as Chicago, Chase, Maynard Ferguson, Stan Kenton, Blood, Sweat & Tears, and his father's big band, The Buddy Lee Orchestra. Upon relocating to Memphis in 1995, John revived his love for jazz as a trumpet player with the Memphis Knights Big Band, VA Band, and the Memphis Shrine Band, and as the leader of the Memphis Doctors Band. He volunteered his time to play "Taps" for local military funerals in association with Bugles Across America.
John was an aviator in every sense of the word. His passion for military history and love of flying were contagious. He participated in numerous events to promote aviation and preserve aviation history through such groups as the National Aviation Hall of Fame, the National Museum of the United States Air Force, the LSU Alumni Association and the Cadets of the Old War Skule. He piloted his own planes in retirement and was a traveling member of the "Black Ducks" flying club near Milton, FL. He will be deeply missed by his family, friends and all who knew him as an exceptional man, full of life and joy in every moment.
Visitation will be held Thursday, November 1 from 5-7 p.m. at Memorial Park Funeral Home, 5668 Poplar Ave., Memphis, TN. Funeral services are scheduled for 11:45 a.m., Friday, November 2 at Grace Hill Church, 10576 Collierville Road, Collierville, TN. Friends will be received from 10:30-11:45 a.m. The service will be officiated by Pastor Jason Stockdale. Burial with full military honors will follow at West Tennessee Veterans Cemetery, 4000 Forest Hill Irene, Memphis, TN.
John is survived by his wife of 45 years, Jan Will Boudreaux, his high school sweetheart and fellow high school band member; a daughter Allison Boudreaux Walden, CFRE, IOM (Christopher James Walden); son Maj. Jeremy John Boudreaux, USAF (Jessie Seahorn Boudreaux); grandchildren Luke Walden and Lillian Walden; mother Ruth Bowman Suthon Boudreaux; and brothers Richard Lee Boudreaux (Candice Hughes), Ronald Charles Boudreaux and Jeffrey Lynn Boudreaux (Isabelle Begue); niece Josephine Boudreaux (Evan Weinberg) and great-niece Eleanora Weinberg. He is preceded in death by his father, John Landry "Buddy" Boudreaux.
In lieu of flowers, donations may be made to The National Aviation Hall of Fame, P.O. Box 31096, Dayton, Ohio 45437 or the National Museum of the United States Air Force by way of the Air Force Museum Foundation, P.O. Box 1903, Wright Patterson Air Force Base, Ohio 45433.
In Memoriam – John Landry "Boodie" Boudreaux, Jr.