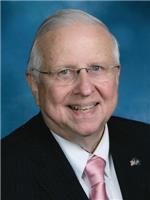 O. Fred Loy, Jr., age 81, a lifelong resident of Baton Rouge, LA passed away on October 20, 2018. Fred was a graduate of Baton Rouge High School, Louisiana State University and Tulane University.
He began his career at the Department of Commerce and Industry and then moved onto the Council for a Better Louisiana and later became the President of the Louisiana Chemical Association. Fred was also the Executive Director of the Committee of 100. He was active in the community and served as the President of the City Club of Baton Rouge,Chairman of the Baton Rouge Assembly, President of the General Philemon Thomas Chapter of the Sons of the American Revolution and President of the Baton Rouge Symphony. He was a member of Kappa Alpha Order, the Baton Rouge Rotary Club, the Baton Rouge Country Club, Public Affairs Research Council Board of Directors and the Centenary College Board of Trustees.
Fred served in the United States Army Reserve and was inducted into the Louisiana State University Military Hall of Honor. He was a lifelong member of First United Methodist Church where he served as Chairman of the Administrative Board and was Lay Leader for The United Methodist Conference. Fred served as the Head Usher at the 11:00 service for many years.
He is preceded in death by his daughter, Leslie Lurline Loy; his mother, Lurline Mllican Loy; his brother in-law, E. Dale McCarter; and his grandparents, Dr. and Mrs. W.Y. Mllican. Fred is survived by his wife, Sandra Rountree Loy; son, James Clifton Loy; son, Frederick Stephen Loy and wife Sheri Marley Loy; grandsons, Tucker Hayes Loy, Hayden Marley Loy and Parker James Loy, all of Baton Rouge; his sister Hallie Loy McCarter, and nephews Kevin Dale McCarter; James Millican McCarter; and Shawn Wesley McCarter. Visitation will take place at the Kaye Ory Parish Hall, First United Methodist Church Baton Rouge, Friday, October 26, 2018 from 10:30 am until services at 12:00 pm. Inurnment will follow at the First United Methodist Church columbarium.
In lieu of flowers, the family requests memorial donations to First United Methodist Church Baton Rouge, 930 North Blvd, Baton Rouge, LA 70802. The family wishes to extend sincere appreciation to Dr. Louis Minsky and his staff for their exceptional care and support.
In Memoriam – O. Fred Loy, Jr.