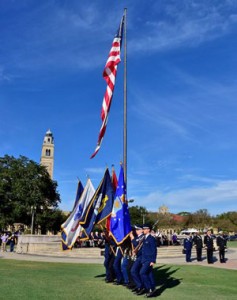 Four LSU graduates will be inducted into the Hall of Honor for LSU Distinguished Military Alumni during LSU Salutes 2018. The event is co-sponsored by the university and Cadets of the Ole War Skule.
Inductees are the late U.S. Army 1st Lt. Christopher W. Barnett, of Baton Rouge; Benjamin R. Franklin III, of Baton Rouge; retired U.S. Army Lt. Col. Robert L. Freshley Sr., of Jeanerette, La.; and retired U.S. Air Force Col. Albert W. Perez, of Baton Rouge.
The induction ceremony, which will include a military flyover and 21-gun salute, will take place at 9 a.m. on Saturday, Nov. 3, at the LSU War Memorial on the Parade Ground. The event is open to the public.
On Friday, Nov. 2, the inductees will be honored at the Commandant's Luncheon in the LSU Student Union Ballroom and at the President's Reception/LSU Salutes Dinner at the LSU Faculty Club. Rear Admiral Craig A. Clapperton, Deputy Director for Future Operations, U.S. Cyber Command, will deliver the keynote address at the Commandant's Luncheon. Congressman Garret N. Graves will be guest speaker at the dinner Thursday evening.
They also will be recognized during pre-game activities at the LSU vs. Alabama football game at Tiger Stadium, and the Tiger Marching Band will present a "Patriotic Salute" during the half-time show.
LSU Salutes recognizes all veterans, in particular those who attended LSU and served in ROTC. The Hall of Honor inductees, all of whom must have attended LSU and served in the military, are selected based on their involvement with the university as well as military and community service.
Participating in LSU Salutes events will be members of the LSU Corps of Cadets, which includes LSU Army and Air Force ROTC students and Southern University Navy ROTC, which consists of LSU and Southern students.
For more information, visit olewarskule.lsu.edu, e-mail cadets@lsu.edu or call 225-578-0420 or toll free 1-866-SALUTES.
LSU Salutes 2018 – 4 To Be Inducted into Military Hall of Honor