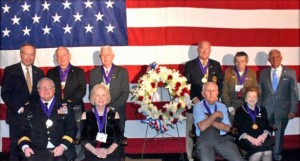 Eight LSU graduates were inducted into the Hall of Honor for LSU Distinguished Military Alumni during LSU Salutes 2019.The annual event is co-sponsored by the university and Cadets of the Ole War Skule.
Inducted were Eugene A. Booth, Capt., U.S. Army, Baton Rouge; Peter Dennis Burland, Master Sgt., U.S. Army, Fulshear, Texas; Arthur Joseph delaHoussaye III, Capt., U.S. Marine Corps; Leonard J. Drude, Capt., U.S. Navy (Ret.), Ponchatoula, La.; John B. Dunlap III, Brig. Gen., U.S. Army (Ret.), Baton Rouge; John Elphick, Capt., U.S. Army, Midland, Texas; the late John H. Mitchell, 2nd Lt., U.S. Army; and the late Marvin J. "Buddy" Roberts, Capt., U.S. Army.
The induction ceremony took place on Friday, Nov. 22, at the President's Reception/LSU Salutes Dinner at the LSU Faculty Club. The honorees were recognized at the Commandant's Luncheon in the LSU Student Union Ballroom earlier that day and during pre-game activities at the LSU vs. Arkansas football game at Tiger Stadium,
LSU Salutes recognizes all veterans, in particular those who attended LSU and served in ROTC. The Hall of Honor inductees, all of whom must have attended LSU and served in the military, are selected based on their involvement with the university as well as military and community service.
The LSU Corps of Cadets, which includes LSU Army and Air Force ROTC students and Southern University Navy ROTC, which consists of LSU and Southern students, participated in the ceremony.
BIO BRIEFS
Eugene A. Booth, Captain, U.S. Army – Eugene Booth attended LSU attended from 1962-1966 and earned his law degree from LSU Law School in 1974. He was commissioned through LSU ROTC, completed Combat Platoon Leaders training and entered Primary Rotary Wing Aviation training. Upon completion, he received combat orders to Vietnam, serving first with the 121st Assault Helicopter Company then as commander of the Viking Gunship platoon. Booth completed his tour of duty in Vietnam in August 1969, and was assigned to Hunter Army Airfield as Chief, Aircraft Management Branch, Office of the Director of Instruction. Booth completed his service with the U.S. Army in August 1971.
Peter Dennis Burland, Master Sergeant, U.S. Army – Peter Burland entered LSU in 1941 and volunteered for the U.S. Army in 1943. He returned after World War II, earning a bachelor's degree in chemistry in 1949 and a master's degree in chemistry and math in 1951. He was recruited into the Military Intelligence service and the Office of Strategic Services soon after enlistment. He was promoted to master sergeant after basic training and served in an intelligence role throughout his service in the European Theater. Assigned to the 2nd Armored Division, he fought with the 2nd Armored Tactical Command Post through Normandy, Ardennes, Northern France, Rhineland, and Central Europe, including the battles of Carentan and Battle of the Bulge.
Arthur Joseph delaHoussaye III, Captain, U.S. Marine Corps – The late Arthur delaHoussasye attended LSU for two year before earning a bachelor's degree in business from the University of Southwestern Louisiana. He was commissioned in the U.S. Marine Corps as a Second Lieutenant in 1965. After earning carrier qualifications –T2a – he transferred to NAS Training Squadron 21 for T-2A, TF-9, and AF-9J training. He completed academic courses with the high average of 68, was designated a High Flyer, promoted to first lieutenant, and designated a naval aviator. He was stationed with U.S. Marine Corps Air Station Squadron 531 in 1966-1967 and appointed captain. In late 1967 he deployed to Chu Lai, Vietnam, with Squadron 323. He was killed in action on January 31, 1968, during the Tet Offensive in Vietnam.
Leonard J. Drude, Captain, U.S. Navy (Ret.) – Leonard Drude graduated from LSU in 1958 with a degree in geology and was commissioned in the U.S. Navy through Officers Candidate School the same year. He was stationed aboard the aircraft carrier USS Intrepid during the Vietnam War and also served as Combat Defense Officer aboard the USS America. He was promoted to the rank of captain in 1979, assigned to command of the Atlantic Fleet Weapons Training Facility (AFWTF), and was instrumental in modernizing the training of the U.S. Atlantic Fleet and Allied Forces. After AFWTF, he became ComOrange, continuing his expertise in the training of U.S. Naval Forces and Allied Forces. Drude retired at the rank of captain in 1989.
John B. Dunlap III, Brigadier General, USA Retired – John Dunlap graduated from LSU in 1986 with a degree in history, received a master's degree in strategic studies from the U.S. Army War College, and graduated from Judge Advocate General's School. He was a military prosecutor with 1st Armored Division and 3rd Infantry Division in Germany. In 1990, he deployed to Iraq for Operation Desert Shield/Desert Storm and upon redeployment was assigned to 4th Brigade, 1st AD. He was assigned to Combat Aviation Brigade, 3rd ID, in 1992 and upon completion of active duty he joined the Louisiana Army National Guard, 256th Infantry Brigade, as Assistant S-4 (Logistics Officer). Abrigadier general in the Louisiana National Guard, he was appointed Assistant Adjutant General-Army in 2018 and served 27 years in the Guard and three years in the Active Army, retiring in 2019.
John Elphick, Captain, U.S. Army – John Elphick earned a bachelor's degree in business administration from LSU in 1968. As a newly commissioned second lieutenant he reported to Fort Benning, Ga., and was promoted to captain in 1970. He deployed to Vietnam and assigned to C/227 Assault Helicopter Battalion, 1st Cav, the "Ghostriders." In 1971, 1st Cav colors were sent home and C/227 was reassigned to Ninh Hoa, II Corps, to support White Horse Division, Republic of Korea and ARVN operations. Elphick was assigned to HHT, 2 Sqdn 1st Cav, 2d Armored Division, Fort Hood, Texas, and served as adjutant to the squadron commander. He was honorably discharged from active duty in 1972 and released from standby reserve in 1974.
John H. Mitchell, Second Lieutenant, U.S. Army – The late John H. Mitchell entered LSU after WW II and earned bachelor's, master's, and doctoral (degrees in vocational agricultural education. He entered the U.S. Army in 1943 and after completing training reported to the 81st 1nfantry "Wild Cat" Division. Assigned to the 323rd Regiment, Company K, he trained in Hawaii for future invasions to the Palau Islands, Peleliu, Angar, Philippine Islands, and Leyte Island. After three years in the South Pacific and Japan, he returned to the U.S. and was separated from active duty on February 7, 1946. He served as a second lieutenant in the Army Reserve as Commander of Company G, 189th Infantry and helped maintain the local guard unit during the early stages of the Korean War. He was honorably discharged in June 1951.
Marvin J. "Buddy" Roberts , Captain, U.S. Army – The late Marvin Roberts attended LSU from 1962-1964 and began his military career as an enlisted soldier in the Army National Guard. He attended airborne and Special Forces training schools and graduated from Ranger School and Officer Candidate School as a Distinguished Candidate. Hevolunteered for active duty in Special Forces during the Vietnam War 1965 was assigned as platoon leader of Company A, 2nd Battalion, 327th Infantry, 101st Airborne Division, RVN. He was promoted to first lieutenant in 1966, then to captain, and returned to Vietnam in 1969 as commander of Company B, 1st Battalion, 11th Infantry Regiment, 5thMechanized Infantry Division, LZ Sharon, Quant Tri province, RVN. He was wounded at Cam Lo Village on March 27, 1969, and died on the hospital ship Repose.
Photos can viewed at the Event Photos page
LSU Salutes 2019 – 8 Inducted into Military Hall of Honor